Mother of all PH maps coming home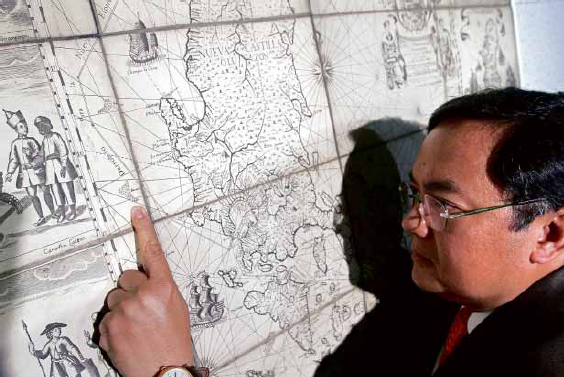 For a man who relies on favorable odds to remain in business, the fact that the "Mother of all Philippine maps" was auctioned off at Sotheby's London on his mother's birthday sounded propitious enough.
And so it was, although the P5 million businessman Mel Velasco Velarde had been prepared to cough up for the 1734 Murillo Velarde map soared to the final hammer price of P12 million after some furious bidding at that Nov. 4, 2014 auction.ADVERTISEMENT
For the chief executive officer of the international digital technology company Now Corp. and chair of the Asian Institute of Journalism and Communication (AIJC) who prides himself on being the top taxpayer in 2009, "it was still a lot of money," but a paltry sum considering the map's historical, aesthetic and cartographic value.
Published in Manila in 1734, "Carta hydrographica y chorographica de las Islas Filipinas" was prepared by the Jesuit friar Pedro Murillo Velarde, and drawn and engraved by indios Francisco Suarez and Nicolas de la Cruz Bagay, respectively. When it came out, the map was universally hailed for its faithfulness to detail at a time when drones, GPS and satellites were yet unheard of.
Before Google Earth
"It became a sensation in Europe because it was very detailed," said Supreme Court Senior Associate Justice Antonio Carpio during a recent AIJC forum on the maritime dispute in the South China Sea.
"It was the advance party for Google Earth," Carpio added.
READ: Justice Carpio debunks China's historical claim
Former Education and Culture Minister Jaime Laya described the 1.2-x-1.5-meter map as "the Holy Grail of Philippine cartography," as it did not only trace the maritime routes from Manila to Spain and Mexico, but also had 12 panels, six on each side, that showed the ethnic groups in the Philippines in the 18th century, the country's fauna and flora, as well as the interior topography of colonial Manila.
Its most valuable and relevant feature, however, lies on the map's upper left section, west of the coastline of Luzon: the cluster of land mass called "Bajo de Masinloc" and "Panacot," what is now known as Panatag or Scarborough Shoal, which is irrefutable proof that as early as the 1700s, the disputed shoal has been part of the Philippine territory, Velarde said.
READ: When Scarborough was 'Panacot'
Concocted nine-dash line
"As Justice Carpio said in his lecture, none of the islands drawn in this Murrillo-Velarde map ever appeared on China's maps since centuries ago—only in recent history when China concocted the nine-dash line," the businessman said in an e-mail interview with the Inquirer.
That was why the jacked-up price was worth every cent, Velarde said. "If you have the money … what loss of value could haunt you forever, if the other party, say a Chinese businessman, won it for China?"
He added: "Ninety-five percent of my money comes from this nation. I wanted to contribute something back (beyond) cash."
The map is also a collectible relic to the man who describes himself as a collector, "not of art pieces but of books: I have a library of more than 10,000 titles. You see, in the early '80s, I worked for a bookstore in Glendale, where I got paid half in cash, half in books."
Velarde, who named math and history as favorite subjects in his younger days; business and economics, "in (his) hungry days" now considers neuroscience his latest interest.
"I enjoy new sciences that debunk all forms of dogmas and falsehoods sprinkled in history, religion, morality, politics, philosophy, etc.," he said, citing one of the "hundreds of compelling epiphanies embedded in the Murillo Velarde map."
"The cartouches on the map showed realities of an (advanced) civilization even prior to Spanish times …. Ours was a civilization that possessed and manifested universal, nonculture specific values, showing that our ancestors had knowledge of right and wrong."
Source: https://globalnation.inquirer.net/124287/mother-of-all-ph-maps-coming-home