UPD gets replica of 1734 Murillo Velarde map
UPD gets replica of 1734 Murillo Velarde map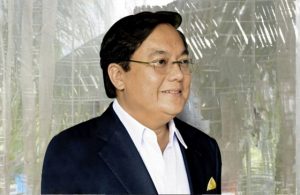 (OCT. 19) — A facsimile of the famous 1734 Murillo Velarde map was turned over to UP Diliman (UPD) on Oct. 4 as part of the opening of the 16th Philippine-Spanish Friendship Day Conference at the NISMED (National Institute for Science and Mathematics Education Development) Auditorium.
The 1734 Murillo Velarde map was key in the Philippines' win against China's claim of ownership over the South China Sea (West Philippine Sea) at the Permanent Court of Arbitration (PCA) at The Hague in 2016.
The donor of the official replica was Mel Velarde, an Information Technology entrepreneur and chair of the Asian Institute of Journalism and Communication.
"I'm here with a simple mission to give you a gift of the official replica of the 1734 Murillo Velarde map. My mission was to buy the map at an auction in London for you (the youth) because (Supreme Court Associate) Justice (Antonio) Carpio wanted the youth to be able to see it and understand how blessed and rich our country is," he said.
The map, along with 270 other maps, was used by Carpio and a team of experts to refute China's historic claim of ownership of the Sea. On July 12, 2016, PCA tribunal ruled China had no evidence that historically it had exclusive control over the waters or resources of the South China Sea.
Velarde, at Carpio's request, purchased the original map previously owned by the Duke of Northumberland at an auction at Sotheby's London for P12 million in 2014.  He then donated the map to the National Museum in 2017.  
In a fortunate turn of events, UPD was able to publicly view the original map at the Conference since Velarde brought it along with the facsimile.
"I decided to bring the original map here for you to see.  I want the youth to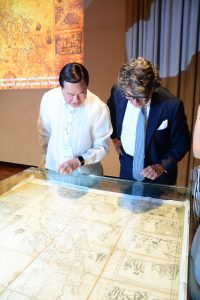 say, I know what happened … The generation before me took a most innovative act to sue a superpower in an international court and nobody believed that a small country basically still colonized in their minds would even win.  But my generation before me succeeded.  So I said if it were a movie I want to be a part of it.  And the part I got was to bring home the map," Velarde said.
The Murillo Velarde map was one of a number of maps the University of Cambridge printed from the copper plates of the 1734 Murillo Velarde map. The Duke of Northumberland of the late 18th century bought a copy of the map and brought it to his residence at Alnwick Castle. There, the map sat at the castle's basement for 200 years. In 2014, the current Duke of Northumberland announced the sale of family heirlooms that included the celebrated map.
The map was largely discussed at the conference with Carpio's keynote address on how the Philippines won over China with the use of historic maps, including the 1734 Murillo Velarde map. The conference's theme for this year was "Mapping Spaces and Identities in Spanish Colonial Philippines."
The map's facsimile is currently at the UPD Department of History and its public viewing is yet to be set.FacebookTwitterShare
Source: https://upd.edu.ph/upd-gets-replica-of-1734-murillo-velarde-map/